March 19 2006 the Third Year Anniversary of The Iraq War
Mood:
energetic
Now Playing: WAR PROTESTS ALL OVER THE WORLD
Topic: PROTEST!
Venezuelan leader Hugo Chavez
, a strident Bush critic, said world opinion is turning against the war as he offered some of his harshest criticisms of the U.S. president in months.
"The world is opposed to your war, Mr. Danger," Chavez said Sunday on his weekly television and radio program. He also called Bush a "coward," a "donkey" and a "drunkard."
***************************************************
~ PEACE MARCH 2006 ~
***************************************************
THANKS TO INDY MEDIA PHOTO JOURNALIST AND POSTERS FOR THE FOLLOWING PICTURES FROM AROUND THE WORLD.
BEING SHARED HERE, FOR THE UNIFIED PURPOSE OF STOPPING THIS WAR
(portland indy media)




Portland, Oregon





A protest march with demonstrators carrying signs that said "Impeach the Evildoer," took nearly an hour to pass through the streets. Police estimated the turnout at about 10,000 and reported no arrests.

A handful of protesters donned orange boiler suits and wore shackles on their wrists to mimic outfits worn in the US Guantanamo Bay prison, and carried photographs of prisoners.
One protesters comment was that his initial estimate was about 10,000-15,000 but people kept flooding the park while the speakers spoke so by the time we marched there must have been 20,000-40,000 people.


****************************************************

~ MEANWHILE ACROSS THE GLOBE PEOPLE HAVE FLOCKED TO THE STREETS IN PROTEST, AS SHOWN BY THE INCOMPLETE LIST BELOW:

Africa
Johannesburg, Omdurman, Santa Cruz de Tenerife.

Latin America
Caracas, Managua, San Juan, Santiago, S?o Paulo, Tijuana-San Francisco.

Asia-Pacific
Adelaide, Armidale, Brisbane, Jakarta, Melbourne, Sydney, Wellington.

Asia
Adana, Ankara, Baghdad, Basra, Bangkok, Karachi, Kuala Lumpur, Manila, Seoul, Tokyo.

Europe
Aalborg, Aarhus, Alicante, Amsterdam, Athens, Barcelona, Berlin, Bonn, Bremen, Brussels, Budapest, Copenhagen, Dublin, Duisburg, Geneva, Gijon, Goteborg, Helsinki, Istanbul, Lisboa, Ljubljana, London, Madrid, Malmo, Nicosia, Odense, Oslo, Reykjavik, Rome, Rotterdam, San Sebastian-Donostia, Stockholm, Tarragona, Trabzon, Warsaw, Vienna.

......North America......
Albuquerque, Ann Arbor, Atlanta, Bangor, Battle Creek, Bemidji, Berkley, Boston, Buffalo, Burlington, Calgary, Camden, Chattanooga, Chicago, Chico, Colorado Springs, Covington, Dallas, Davenport, Denver, Detroit, Eau Claire, Edmonton, El Centro, Evergreen, Fayetteville, Fort Collins, Fresno, Gainesville, Galveston, Grand Rapids, Halifax, Hartford, Highland Park, Houston, Indianapolis, Irvine, Janesville, Kalamazoo, Kansas City, Kent, Ohio, Lake Helen, Lansing, Las Vegas, Little Rock, Los Angeles, Louisville, Madison, Melbourne, Florida, Memphis, Milwaukee, Minneapolis, Mobile-New Orleans, Mocksville, Montreal, Mountain View, Naples, New Bedford, New Haven, New York, Oklahoma, Orange, Ossining, Ottawa, Palo Alto, Pittsburgh, Quebec City, Roxbury, Salisbury, Salt Lake City, San Diego, Santa Barbara, Sarasota, Seattle, Southwest Portland, Southold, Stevens Point, Tallahassee, Toronto, Tucson, Vancouver, Victoria, Washington DC, Windsor, Winnipeg.

San Francisco
Organizers of the march said 25,000 attended, but police estimated the crowd at about 6,000. The march took two hours to wend through downtown San Francisco, and the crowd stretched across several streets.


In Japan
Anti-war rallies stretched into a second day today, with about 800 protesters chanting ``No war! Stop the war!'' and banging drums as they marched peacefully through downtown Tokyo toward the US Embassy. A day earlier, about 2,000 rallied in the city.

In Tokyo
800 demonstrators took to the streets


Malaysia
At least 1,000 people turned out

Seoul, South KoreaHad 1,000 people protest the Iraq war which by the way has the third-largest contingent of foreign troops in Iraq after the US and Britain.

Australia, Asia, and Europe
drew smaller-than-anticipated crowds

Turkey
3,000 in Turkey


London,
Police said 15,000 people joined a march on Saturday from Parliament and Big Ben to a rally in Trafalgar Square

Chicago, USA
More than 7,000 people marched through downtown in one of the US biggest marches

New York,
About 200 joined a march Sunday down New York's Fifth Avenue
Seventeen people were arrested for disorderly conduct, police said. Saturday's rally drew more than 1,000 people.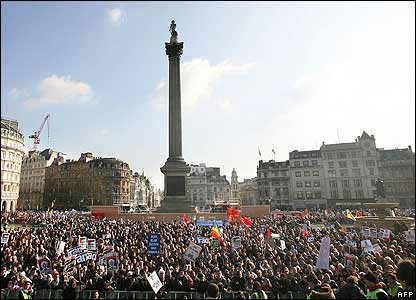 Posted by Joe Anybody at 8:48 PM PST
Updated: Monday, 20 March 2006 12:51 PM PST