APRIL FOOLS 5-5-5 The first day of 30
Mood:
blue
Now Playing: COVID and Social Distancing - Ducks Arrive - Day 1
Topic: 5-5-5 Social Distance
Look forward to the upcoming 5-5-5 Social Distance Joe Anybody Zebra 3 Report
So save this link here -->
http://zebra3report.tripod.com/zebra3report
ON THE TOP RIGHT SIDE OF THIS PAGE YOU WILL BE ABLE TO CLICK ON ANY DAY OF THE CALENDAR TO READ THAT DAYS REPORT FOR MY 5-5-5 BLOG
5 Things I did today:
Looked for and then took pictures throughout the day, for my new 5-5-5 blog

Listened to podcast while working on my 5-5-5 blog
Had 2 teeth pulled THAT WERE KILLING ME (nobody at the dentist but me} and it only took 40 mins to do it. Been up for hours at night the past 3 days.
I bought 4 dollars worth of bird seed, varity of nuts, and oats to make some homemeade bird suet. This is my second time making these suet cakes that the birds just LOVE as well as the pesky squirls
Watched old western videos on youtube - stayed inside sipping a beer while relaizing I am glad I have 2 teeth missing

5 Ideas & reoccuring thoughts of mine:
I wanted to share this podcast that I listened to today:

How Coronavirus Is Scrambling Our Politics. On how simple advice like avoiding handshakes plays into old ideological divides. https://megaphone.link/ATL3231449415

I heard good news this morning 4/1/20 on the corporate media news, that the Oregon Hosipitals "are prepared" for any rise in COVID cases, so far its not rapidily growing. The fact theu are "prepared is good news"
3. The social distancing may take at least 30 more day:
http://a.msn.com/01/en-us/BB121of8?ocid=scu2
4. The way people are treating others is new and encouraging, the way this virus is forcing us to work together is actually improving our love, repect and compassion for each other. There seems to be an understanding by most, that these times are rough for many folks, and it is causing us to re-evaluate and tweek our current system in how we charge people or provide needed service. I like what I am seeing in that respect.
5. I cant believe how fast n easy the dentist lady (Kaiser Sunnsyside officce) pulled my 2 teeth #wow The bad ones were located on the lower back area of my mouth. No pain in the removal process and it was fast - and no bill - I can pay it later - I picked up my perscription 10 minutes later by driving up to the Kaiser pharmacy and it was hand delivered to me inmy truck - pay later on that one to!
5 Pictures of things I have seen or want to pass along to others:
1 picture close up of one of the ducks in my backyard
2. picture of the Magnolia tree in my front yard
3. picture of "no toilet paper" still going on - 4/1/20 at WINCO in Portland Ore
4. picture of the empty waiting room at the dentist office today
5. picture of the lamp above the dental chair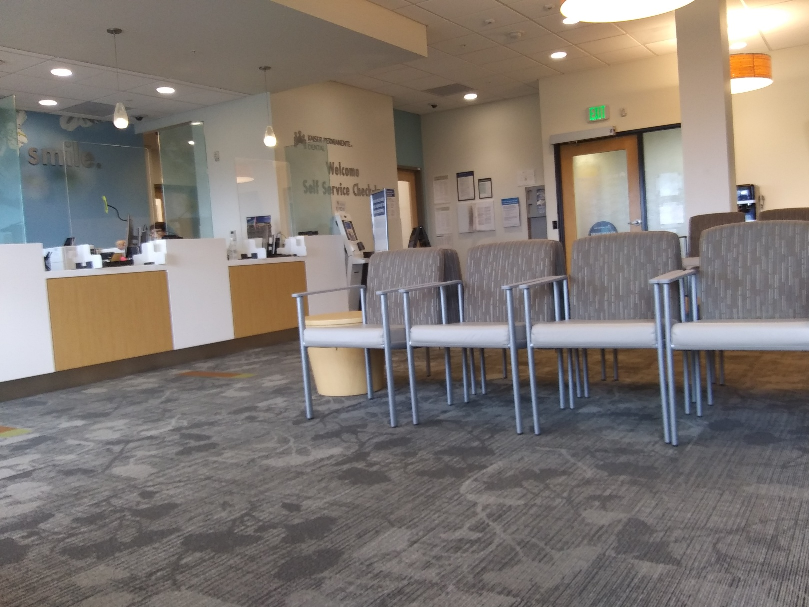 Posted by Joe Anybody at 1:33 PM PDT
Updated: Thursday, 2 April 2020 9:17 PM PDT