Stinking Spy's
Mood:
irritated
Now Playing: Catholic Priest is Spied On by NSA - FBI
Topic: PROTEST!
Please read
here
About how the FBI and NSA have been spying on Father Roy, which is now proven, from some new recently released documents.
You see Z3 Readers, Father Roy was spied on in the name of "
counterterrorism
," by the U.S. government
They were
watching
Father Roy because of his efforts to
raise awareness of the state terrorism perpetrated by the U.S.-backed government of El Salvador.
The link above is a short article about Father Roy who was and still is one of the main organizers of the movement to close the Pentagon-sponsored school where most of El Salvador's military officers were trained: the Western Hemisphere Institute for Security Cooperation (WHINSEC), better known as the
School of the Americas, based in Fort Benning, Georgia
*** *** *** *** *** *** *** ***
Hey there Mr Catholic Priest.
I am from the NSA
We will spy on you because
You are Anti-War
And Pro-Peace

You call your self someone who cares about Humanity
We call you "suspect"
The People Of America
"Don't like Catholic Priest Promoting Anti-War Talk"
Damn You!

DAMN ALL OF YOU PROTESTERS
YOU ALL ARE SUSPECT
TO THE NEW WORLD ORDER IN THE USA
WE THE PEOPLE SPEAK
THROUGH OUR FASCIST LEADERS
"Don't mind our "heads in the sand"
We have given our country to the Neocons!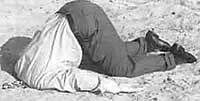 *** *** *** *** *** *** *** ***
Fascist "New World" Leaders


What is fascinating is this comment and link on www.Alternet.org

That points out the blatant "abuse of justice and executive power by these neocons,"
in refusing to even investigate these serious constitutional concerns of Joe America & Joe Anybody and even Uncle Sam:
WHITE HOUSE BLOCKS INVESTIGATIONS INTO SPYING by John Nichols, TheNation.com
The Justice Department claims that its attempt to investigate Bush's eavesdropping programs has gone nowhere because its staff was denied security clearance.
And that is nothing to be proud of.
And a corrupt government indeed, and we have swiftly allowed it to rob us in broad daylight.

Joe Anybody has Ben Waiting for the world to pull its head out of the sand ....Im not sure some
of us can do that
Some just don't care if there Government spy's on them! Which confounds me!?


Posted by Joe Anybody at 11:02 PM PDT
Updated: Monday, 15 May 2006 11:53 PM PDT