Portland Human Rights Meeting Video
Mood:
bright
Now Playing: The Portland monthly meeting is now viewable
Topic: HUMANITY
Portland Human Rights Meeting
Full Version Video from 10.7.09
http://portland.indymedia.org/en/2009/10/394789.shtml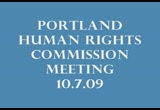 ---
This meeting is open to the public
The full video is 1.hr 49.min
5 short video out-takes from the 2 hour meeting
1. "The Dream Act"
2. "Public Notice"
3. "Accountability"
4. "Police Relations"
5. "Public Announcement"
Posted by Joe Anybody at 6:59 PM PDT
Updated: Sunday, 18 October 2009 4:58 AM PDT