Patriot Act Reauthorization May Be Put Off For 3 Months!?
Mood:
irritated
Now Playing: Bush and Company put on hold from trying to steal Freedom
Topic: CIVIL RIGHTS
"See! I Made All Your Rights Vanish, - POOF - GONE!"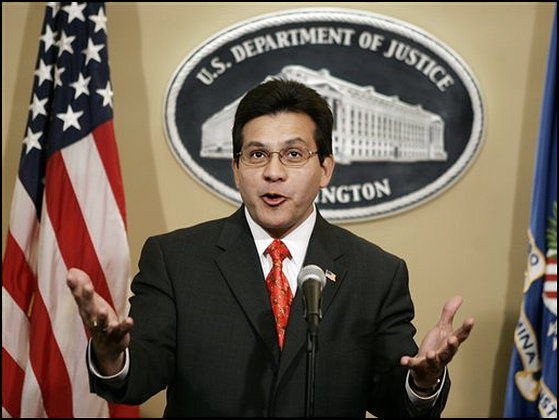 U.S. Attorney General Alberto Gonzales tells reporters at the Justice Department that he "applauds the House and Senate conferees for coming together to produce a comprehensive USA Patriot Act reauthorization bill," He said the reauthorization of the USA Patriot law would mean "continued security for the United States, and also continued protection of civil liberties for all Americans." """LIAR"""
THIS GUY IS AS BAD AS ASHCROFT
"A TEXAN TORTURE PROPONENT"
AND CIVIL RIGHTS RUINER
And One of Bush Co Master Spinners
the following was copied from the washington post
Congressional Republican leaders will press for passage of a new Patriot Act to combat terrorism, but a Senate filibuster looms on a measure that liberal and conservative critics alike say is a threat to individual liberties.
President Bush is urging Congress to reach agreement on reauthorizing the Patriot Act _ a law that he says is essential to fighting terrorism, but liberal and conservative critics say is a threat to individual liberties.


But lawmakers in both parties attacked the measure. "This battle is not over," said Sen. Russell Feingold, D-Wis., who complained that the bill lacked "adequate safeguards to protect our constitutional freedoms." He vowed to do everything he could, including a filibuster, to stop the bill from passing.

Feingold was the only senator to vote against the original Patriot Act, which passed in the days following the terrorist attacks of Sept. 11, 2001.

Now, four years later, lawmakers in both parties appear more willing to express their opposition, on grounds that the bill fails to protect privacy rights. Three Republican and three Democratic senators issued a statement calling for revisions to give law enforcement "the tools they need while providing safeguards to protect the constitutional rights of all Americans."
Under the measure announced during the day, law enforcement officials could continue to obtain secret access to a variety of personal records from businesses, hospitals and other organizations, including libraries. Access is obtained by order of a secret court established under the Foreign Intelligence Surveillance Act. The recipient of the request for information is subject to a gag order that cannot be challenged in court, according to officials.
On December 12, a bipartisan coalition of senators introduced a bill to extend the expiring PATRIOT Act provisions for three more months, to allow more time to develop a true compromise that addresses civil liberties concerns.
(end-quotes)
The ending isn't quite what Washington was expecting!
Posted by Joe Anybody at 1:59 PM PST
Updated: Wednesday, 14 December 2005 10:01 AM PST