5-5-5 The eighth day of 30
Mood:
lazy
Now Playing: Yes we can ! - (repeat) - Yes we can !
Topic: 5-5-5 Social Distance
Save this link here -->
http://zebra3report.tripod.com/zebra3report
ON THE TOP RIGHT SIDE OF THIS PAGE YOU WILL BE ABLE TO CLICK ON ANY DAY OF THE CALENDAR TO READ THAT DAYS REPORT FOR MY 5-5-5 BLOG
5 Things I did that day
1. Figured out the washing maching problem - If I set it and leave it, it will work fine, if I touch the dial or mess with the settings once it has started it glitches and so do I (LOL) - I do nothing and its fixed. So I washed another 5 loads of everything I could find
2. I spent endless seeming hours outside (all day) - mostly n the sunshine - listening to Mt Hood Jazz 89.1 FM (radio streaming link)
3. Assitsed Stephan in clearing my side desk for this big fish 50 gallon tank he installing in my room - Today Steph cleaned the tank really good outside n the front yard and the tank is now in my room (big plans he has)
4. Drove 10 miles this afternoon to get my 2 big bags of sawdust [FREE] from my woodworking cabinet making / connection for using on my compost system(s) and for sprinkling on the trails out at Shady Grove - This guy has an endless supply of sawdust for me - heck I could go into the compost cover-up supply business
5. Folding tons of clothes in the evening - listened to OPB radio world news & old time radio programs on the computer and then fell asleep watching old B/W TV shows on YouTube --> like Charlie Chan and Dragnet
5 Ideas & reoccurring thoughts of mine
1. https://www.nbcnews.com/science/science-news/people-often-think-their-gut-s-not-ideal-pandemic-n1179926 Pandemic decision-making: Why Humans aren't wired to understand the coronavirus
2. The curve seems to be getting flatter - so I hear - no large events till end of summer .... that is the rumble I hear in the news chatter, i wonder if that applies to Portland and my job
3. Around noon I get a notification to check out the news on the COVID from the video news site "DW" - here is the 14 min YouTube video link (info on strict quarantines and threats to Democracy in Germany and Europe and other UK countires) (Also some Conspiracy Theorie info on the new 5G transmissions is at end of clip #Anti5G ) --> https://youtu.be/uDTEscXp1Po
4. Doing random moments of quite meditation and relaxation to ease the stress and wash away the anxity - need to perfect my zen patience tollerance thresholds and just go with the flow
5. The ducks have both been stopping in and out throughout the day but I also noticed less little birds lately ove the past few days - who knows why - I do have a couple wood peckers knocking away on the telephone pole.
5 Pictures of things I have seen or want to pass along to others
1. Picture of a cherry tree in bloom in the back yard - you can see a squirrel is in the middle of my picture - probably eyeing my bird feeder
2. Picture of a big 2 foot by 3 foot drain in my back yard - works perfect with the washer. The drain probably is there due to the pool in the back yard.
3. Wind chimes I made that took me a few hours to construct (it) was more detailed and intricate than I imagined even with these Simple Instructions I found here
4. The ready to go - empty fish tank in my room (stay tuned)
5. A bird bath I got of Craigslist for FREE - It is big beautiful and heavy (it has a small leak) I will fix that - I do like it in my front yard but I bet I drag it up to Shady Grove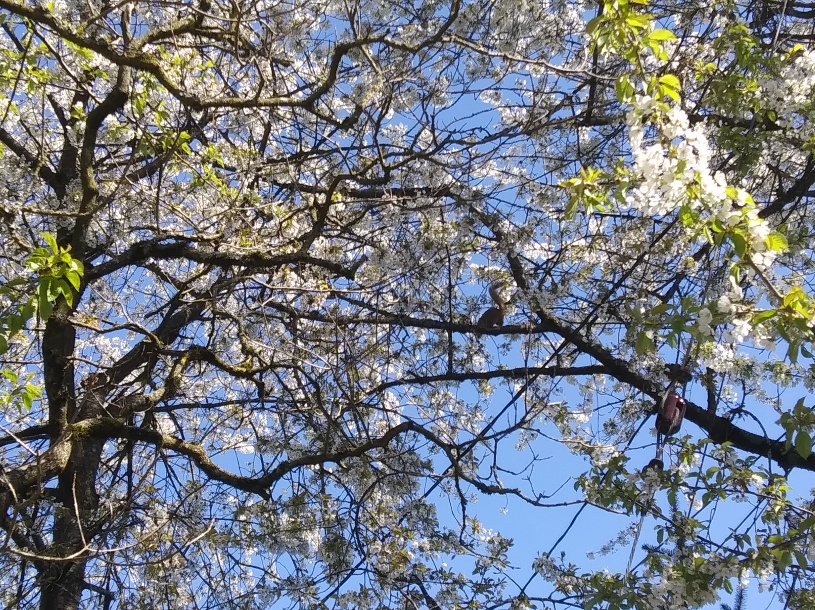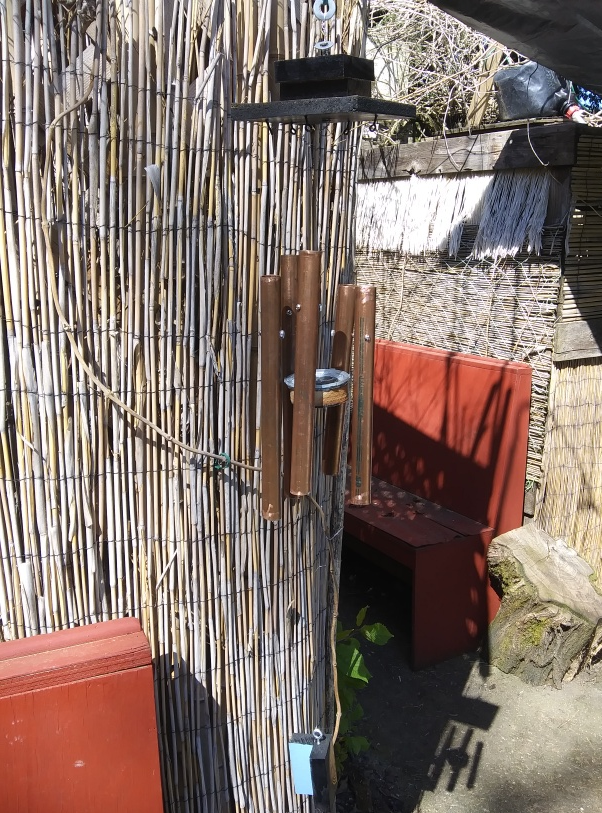 Posted by Joe Anybody at 12:01 AM PDT
Updated: Thursday, 9 April 2020 12:50 PM PDT