Nader and the Economic news = No New News To Me
Mood:
loud
Now Playing: Ralph Nader and teh Economy - See my Blog post from this morning
Topic: FAILURE by the GOVERNMENT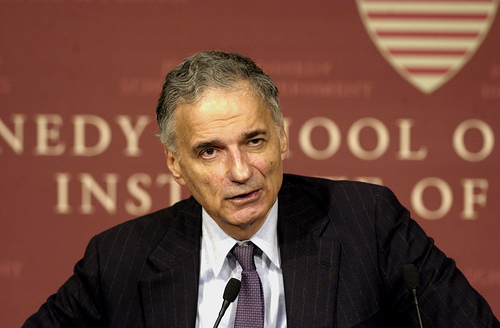 Z3 Readers, on this momentous Monday, September 15, 2008.... please read more about the news of the banking industry in my blog post from this morning (directly following this entery)
Ralph Nader
The prudential choice for 2008.
We woke up this morning early on 9-15-08
Turned on C-Span radio.
And heard Brian Lamb quoting Ralph Nader.
From years ago.
With Ralph warning about extravagance, recklessness, and excessive compensation on Wall Street.
Warning years ago about the undue influence of Fannie and Freddie on Democrats and Republicans alike.
Warning about the failure of our government to protect small investors.
Throughout his career, Nader has strong been a strong advocate for due diligence.
For protecting shareholder rights.
For prudential regulation.
And strict oversight of the markets.
While the Democrats and Republicans have bent to the whims of their corporate masters and Wall Street's bottom line imperatives.
Nader has been steadfast in his advocacy for safety, regulation, and protecting the little guy.
Unfortunately for the nation and for investors, his warnings have gone largely unheeded.
On this momentous Monday, as we watch the fallout from the failed policies, greed and extravagance of the corporate political class unfold, we make this simple note.
Due diligence, prudential regulation, and strict oversight of the markets -- Nader-style -- would have gone a long way to averting the disaster currently hitting Wall Street.
Instead, it was short-term fast and dirty profits, muzzled politicians, and throw caution to the wind.
And so now, the American people are learning the hard way about the consequences of a reckless corporate dominated political economy.
But thanks to your hard work, we are in a position to give America a choice in November.
Posted by Joe Anybody at 5:40 PM PDT